Miral is founded in 1993 on the basis of the spirit of Christianity. We are committed to achieving our goals that supports social inclusion of persons with disabilities and the most vulnerable people. Our experts in various fields work on developing and implementing sustainable international development/cooperation programs and domestic welfare programs based on our sincerity and expertise. We are accredited as a consultative status by UN ECOSOC, and serve people regardless religion, race, or political ideologies
Trusted Miral

Transparency and Expertise, Purity, Spread of Giving

Leading Miral

Continuous research, passionate challenges, performing new roles in the filed

Cooperating Miral

Working for rights and independence of the marginalized people in the world.
MISSION
We aim to achieve complete social inclusion of the most vulnerable neighbors based on Christianity.
VISION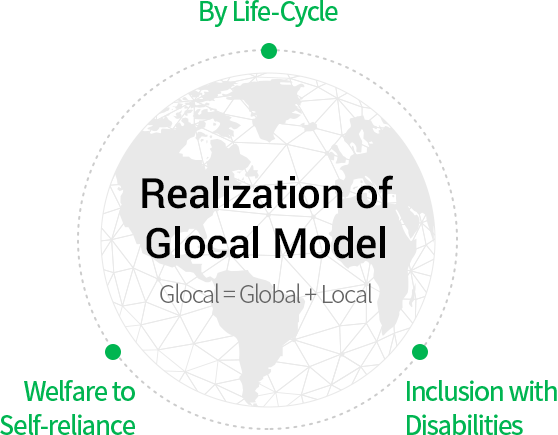 Glocal 모델구현(Global + Local의 합성어)
Our values
Modesty We serve the most vulnerable and neglected people with humility and servantship.

Integrity We serve with sincerity, fairness, and transparency.

Respect We respect all people and promote self-improvement of others to bring positive changes over their environments.

Advocacy We support and represent the rights and interests of the marginalized.

Love We practice giving by sacrifice and patience.
CI
Our CI shows that Miral works for persons with disabilities by depicting a grain of wheat falling into the earth and dies, and the green round shape represents a wheel chair.

Universality

Awareness Improvement about persons with disabilities with education for church and society.

Christianity

Spirituality with acting love and warm heart

Social Welfare

Volunteer with pure heart