Miral Welfare Foundation carries out sustainable development programs and pursues positive changes. We understand the most important regional needs by comprehensive and in-depth research done in the region. We perform community development programs by improving living environment, strengthening local self-governing capacity, etc.
Solar Photovoltaic
Energy Lantern Supply

70000 household

Infrastructure Construction
and Logistics support

391113000 won
2019 Miral Yearly Report
Solar Photovoltaic Energy Lantern Supply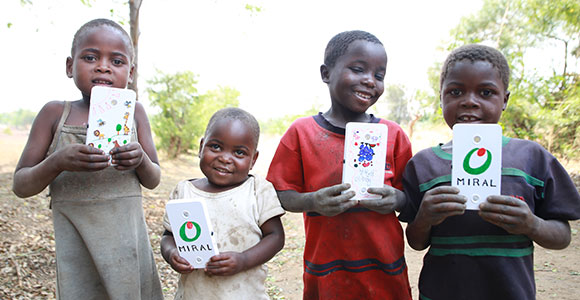 A life without light

Around 1.7 billion over the world are living without light at dark nights.

Less than 30%

Less than 30% of Sub-Saharan Africa countries have an access to electricity and in rural areas, only 10% of people have.

Using the lamp

Most areas lack access to night-time light because of a lack of electricity but only few houses afford to have lamps.

Low power supply rates

Low-level access to electricity curbs adults' night-time economic activities and affects children's learning negatively.
Our Goals for Solar Photovoltaic Energy Lantern Supply
Creating a Job
Establish the centers through solar power generation facilities

Providing Education Environment
Establish education environment for children through disability welfare centers and solar libraries

Ensuring Safe Night Life
To supply solar photovoltaic energy lantern to developing countries which have less than 1% of electricity distribution rate
Community Development Project
Miral Welfare Foundation constructs village well to provide clean water. Also, we build kitchens at schools and toilets to give hygienic environment for children and build a bridge at a ditch where water overflows during rainy season for children to go to school safely.
Goals for Community development project
To develop local needs based on field investigation
To develop local community through strengthening local capacities and improving living environment.
Where Solar Lantern were distributed
Nepal, Liberia, Malawi, Myanmar, Ethiopia, Uganda, Tanzania, Thailand, Kenya, Philippines